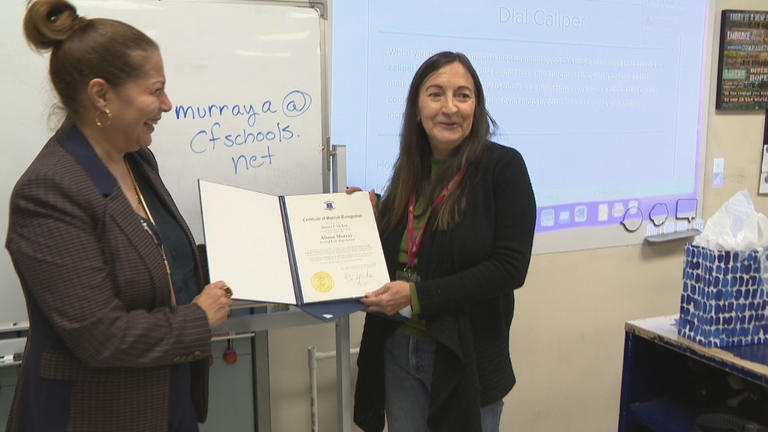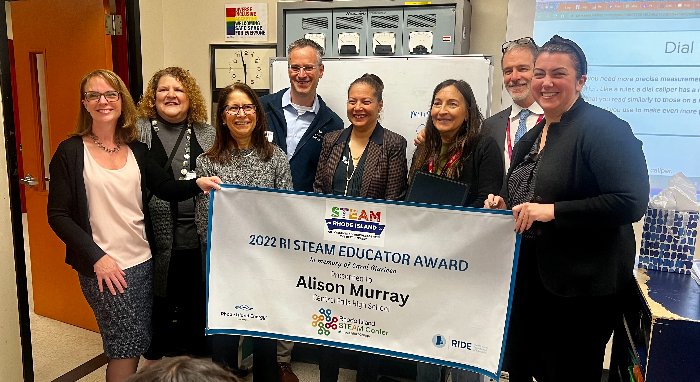 CENTRAL FALLS, R.I. – In a surprise celebration Wednesday, the Rhode Island STEAM Center at Rhode Island College (RIC) and the Rhode Island Department of Education (RIDE) presented Central Falls High School teacher Alison Murray with the 2022 RI STEAM Educator Award. Murray, who has been teaching in Rhode Island public schools for more than a decade, is known to her colleagues as an innovative, engaging educator who empowers students, advocates for multilingual learners, and continuously inspires her peers.   A computer science, engineering and computer science teacher, Murray has an extensive resume with experience writing blended science curriculum and encouraging students to tap into their creativity, collaborate amongst each other, and make real world connections.
A highlight of Murray's career includes being selected for the University of Rhode Island's Teacher at Sea program due to her leadership in URI's Graduate School of Oceanography. Murray worked for weeks with Central Falls students teaching critical concepts around oceanography and environmental engineering, and later assisted students in building a boat, which Murray launched hundreds of miles off the coast of Rhode Island from the research vessel Endeavor. The boat recently landed in the Azores, and Murray led a powerful, cross-cultural Zoom class with students from Central Falls and Portugal.
In addition to her work in Central Falls, Murray serves as English Language Learner Curriculum Developer for Computer Science the University of Rhode Island, as well as an adjunct faculty member at the community College of Rhode Island. Prior to her work in Rhode Island, Murray taught at various universities and colleges. Murray holds a Masters of Education in Teaching English as a Second Language from Rhode Island College and a Masters of Science – Physics from Drexel University. Murray received her Bachelor of Science – Physics from Ursinus College.