History of the Rhode Island STEAM Center
The Rhode Island STEM Center was established as a centralized, focused, and coordinated hub for statewide science, technology, engineering, and mathematics (STEM) education efforts.  The creation of the STEM Center followed a statewide initiative that identified the need for improving STEM education.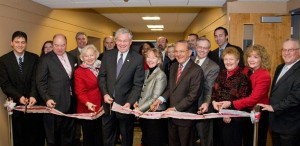 In 2008 state and federal funding allowed the construction of the main facilities of the STEM Center on the second floor of the Henry Barnard School at Rhode Island College. The establishment of the STEM Center supported the development of partnerships among business/industry, PK-12, higher education, after school programs, community-based organizations, non-profits, and government agencies to support STEM education and improve communications among the groups.
The Rhode Island STEAM Center Today
On April 14, 2016, the Rhode Island Council on Postsecondary Education acting on the recommendation from the Commissioner agreed to  change the name of the Rhode Island STEM Center to the Rhode Island STEAM Center to better reflect the work we do.  The Rhode Island STEAM Center continues to grow as we strengthen current partnerships and build new relationships in both the public and private sectors. Our programs focus on making STEM/STEAM more accessible, "user-friendly," and relevant to all Rhode Islanders.   We believe that a basic understanding of STEAM helps people explore the world and make informed decisions. STEAM fields also offer creative and engaging careers that are both personally fulfilling and serve a crucial purpose. Although not everyone is going to work within the STEM or STEAM industry, everyone needs the skills and practices that STEAM offers.